Our Ethos Group 2022-2023
Robyn, Sam, Lucy, Charlie, Cohen, Izzy and Evie
At St Peter's, our Christian ethos forms a vital part of everyday life. We believe that all our pupils should have the opportunity to develop a set of values they can use now and in the future. To ensure Christian Values are at the forefront of each pupil's mind, we formed an Ethos Group. Throughout the year, we have organised various experiences to enhance our Christian education. We hope you enjoy reading about them.
After consultation with all members of our school community, we have now decided on our Core Christian Values: Love, Trust, Respect and Friendship.
Child Led Class Worship
Each half term we choose children to lead Class Worship. By the end of the year all children will have led and taken part in their Class Worship.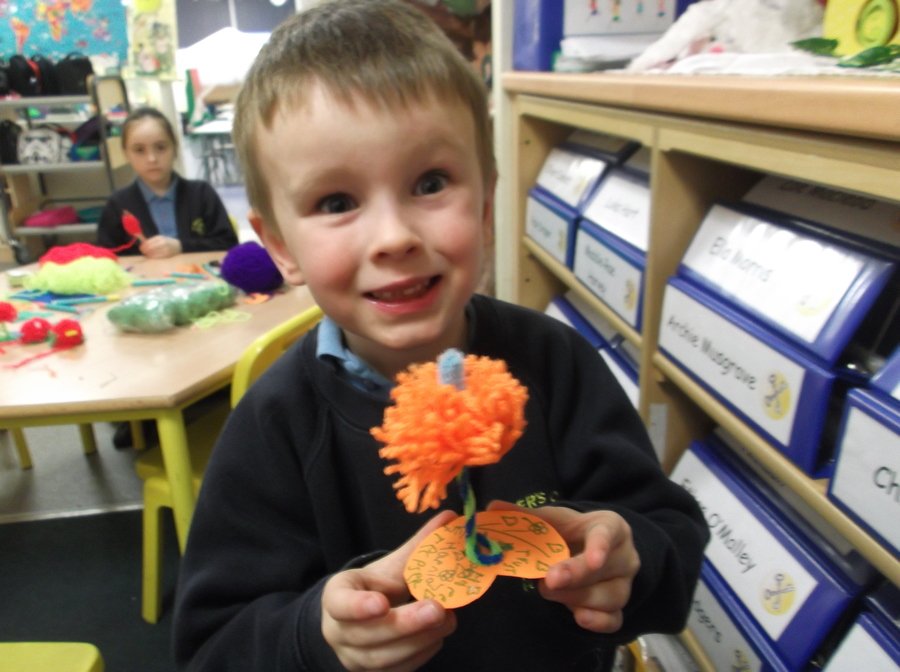 This year we will continue to demonstrate our commitment to living out our Christian Values through the making and giving of Values Bugs. Visitors will be presented with their personal gift of a Values Bug after spending time at St. Peter's.
This will act as a reminder of time spent in a school where Christian Values are embedded, celebrated and permeate through our daily lives.
We have created our 'Heart of the Community' for St Peter's Pavilion, bringing all people who use the pavilion together.
Take a look at our Christian Value quotes! We worked hard to find quotes that show how committed we are to learning from Christian teachings. One of our parents, who makes vinyl stickers, worked with us to enhance our environment and here is Alfie, showing just three of our quotes.
We lead worship on a regular basis. We have led a Christmas service in St Peter's Church; an Easter service in school and numerous acts of worship in school. You can see our journey so far in our scrap book.
Come and join us to hear about our Christian Values and how we can learn from them.
Our Christian Values are visible to keep members of our school community thinking about Jesus and his teachings. As part of that process, we made door plates so every person can see them. Below you can see all the hearts we designed and made. We have put them around school. Can you find them during your visit?
Our final piece of artwork has been installed at St Peter's Pavilion. This completes our aim to reach every member of our community.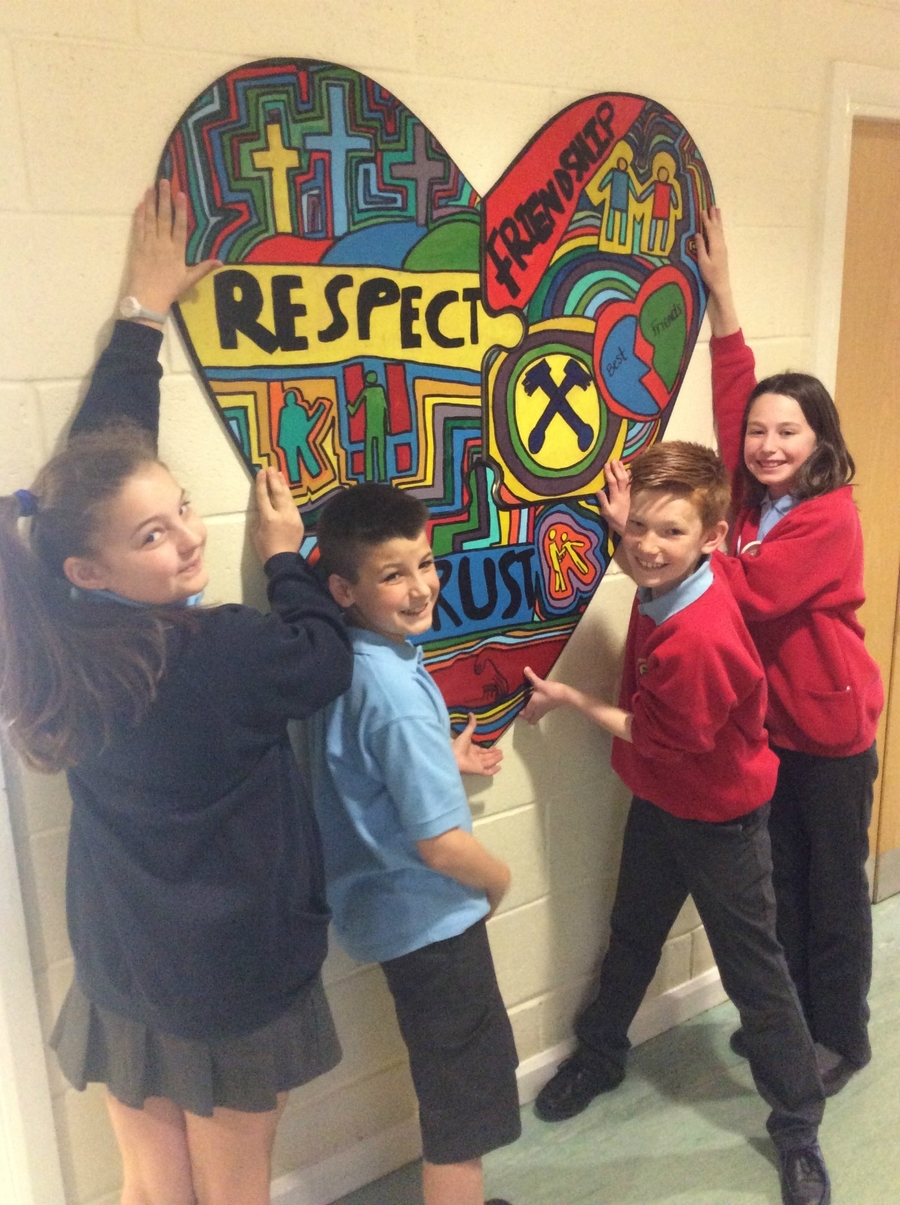 See below for our recent press release about the new heart we presented to Wigan and Leigh Hospice.
SCHOOL PUPILS PRESENT ETHOS ARTWORK TO HOSPICE
PUPILS from St. Peter's CofE Primary School in Hindley, have presented one of four hearts they have made to Wigan and Leigh Hospice.
The hearts were made by the school's Ethos Group, demonstrating three of the school's core values – Respect, Friendship and Trust.
The four identical hearts will eventually go on display across all four corners of the local community, including at the school, St Peters' Church, the pavilion and the Hospice.
The children, all from years 5 and 6, made the hearts as part of an Ethos Group project with the Head of Art at Deanery High School.
Leanne Crompton, Assistant Principal at St. Peter's School, said: "We created an Ethos Group to ensure Christian Values are at the forefront of each pupil's mind. Our Christian ethos forms a vital part of everyday life and we believe that all our pupils should have the opportunity to develop a set of values they can use now and in the future.
"The children really enjoyed their visit to the Hospice to present the heart. They even got to see a piece of artwork on display that they presented to the Hospice a few years ago. This showed them how valued their work is by the Hospice as well as patients and families."
Alan Baron, Chief Executive at the Hospice, said: "The children from our neighbouring school, St. Peter's, have created a stunning piece of artwork and we will be very privileged to put it on display in the Hospice.
"The school's artwork has always engaged patients and families visiting the Hospice, providing a real talking point for people struggling through a difficult time in their life and I'm sure this new piece will do the same.
"We would like to thank the children for all their hard work and for continuing to support the Hospice."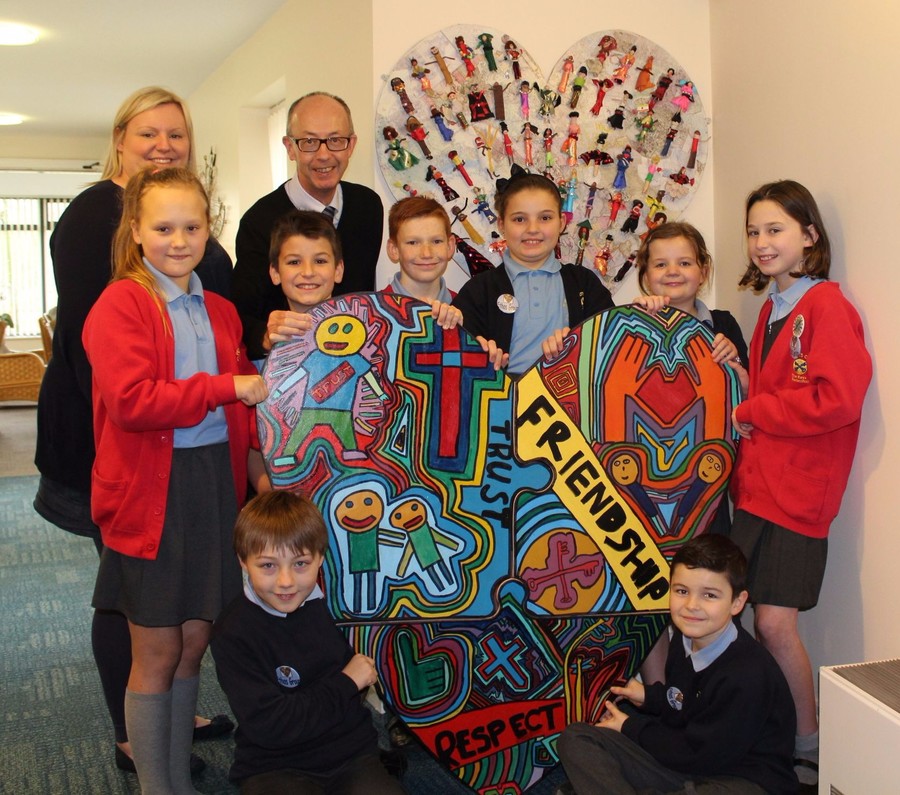 Our first Ethos Group begin our work in September 2014. Find out about their work below.
After being inspired by our Cross Workshop, we decided to organise our own workshop. We worked with pupils from different classes to create Values Chests. These are in the reflection spaces in each classroom. Pupils can write thoughts, poems or quotes, relating to our current Christian Value, and place them in the chests.
In November 2014, we organised a Cross Workshop for our pupils to demonstrate what Christianity means to them. Wendy Moore, a local artist, came to help us design and make wooden crosses, which are displayed in school and in church. Members of our church community visited during the day to see how talented our pupils are.
Here are some of our finished crosses.