Our Eco Warriors for 2022 - 2023
Rec LB - Freddie and Holly
Rec SG - Liam and Charlotte
Year 1 - Noah and Sophia
Year 1/2 - Neveah and Isaac
Year 2 - Oscar and Tilly
Year 3 - George and Orla
Year 3/4 - Phoebe, Hallie and Lexi-Mai L
Year 4/5 - Francesca and Leyla
Year 5/6 - Emily and Aaron
Year 6 - Sofia and Esme
We are now the proud owners of 4 Green Flags!
Congratulations to our whole school community who helped to work as a team in order to achieve this. With special thanks to all of our Eco-Warriors for carrying out their responsibilities with pride and sharing their enthusiasm with others.
We were delighted and honored to be invited to take part in a Media Launch for Flashes of Wigan and Leigh National Nature Reserve at Amberswood.
We all had an amazing time sharing the wonderful space on our doorstep and even made it onto the news:
BBC iPlayer - North West Tonight - Evening News: 03/10/2022 at 21.30
| | |
| --- | --- |
| | The latest news, sport and weather for the North West of England. |
| | |
| --- | --- |
| | Great Manchester Wetlands Partnership - Wigan Council, Lancashire Wildlife Trust, Forestry England, Natural England and local people came together to celebrate the launch of the Flashes NNR. This short film follows the journey of children from St Peters Primary School, Hindley's Eco Club as they meet Professor Jiggett, Dr Joanne Tippett of the ... |
Introducing The L.O.T.
Our allotment was in need of a makeover so our Eco Warriors set a competition to redesign our space. Instead of using this space as a fenced off allotment, we wanted to open it up as an all-year-round Eco space for our whole school community to use all of the time.
We would like to thank:
Our school caretaker for all of his amazing hard work.
Wigan Council for their support with the design and providing free resources.
Our whole school community for their kind donations.
Our Local Councilor for donating plants.
Our amazing volunteers who went above and beyond to maintain our valuable learning space.
Britain in Bloom
We are proud to announce that The L.O.T. received an award from Britain in Bloom in the school category.
Eco Bricks
As a whole school we took part in an Eco Brick project where we worked together with Wigan Council, The Deal and Kildare Grange. These Eco Bricks were then used to create an amazing Waste Not Garden at the Southport Flower Show.
We have now heard that this garden received a Gold Medal.
The Director of Environment invited our school to attend a celebration event to say thank you for all of our hard work in helping them to achieve the Gold Medal.
We will continue to work alongside Kildare Grange, creating enough Eco Bricks for them to build some garden furniture for their outdoor space.
Representing Wigan at the Lancashire Schools Sustainability Conference!
Well Done to our Eco Warriors who were invited to present at the conference to 40 schools representing Lancashire, to share our Eco journey and food waste success story.
As if that wasn't enough, we won an award for the best Eco display!!
Stop the Press! We've gone viral!
Our Eco Warriors were chosen to represent Wigan Council to help to advertise Green Waste.
Food waste project
Our school and Eco Warriors were proud to announce that we were the first school in the UK to take part in an exciting new Eco project!
Not only does it educate our Warriors and school community in food waste and recycling, it is a scheme to raise money to spend on Eco projects in our school, whilst also making links with the wider community!
We would love for everyone to get involved.
To find out more information please click on this link.
So far this year we have:
Welcomed new Eco Warriors

Assigned roles and responsibilities

Carried out an environment audit

Chosen actions needed to develop through evaluating audit

Taken part in Switch off Fortnight
About Us...
We are responsible for embedding eco awareness into our whole school community.
We have our own roles and responsibilities for ensuring our school is eco friendly.
Well done to everyone in our school community who took part in Walk to School Week!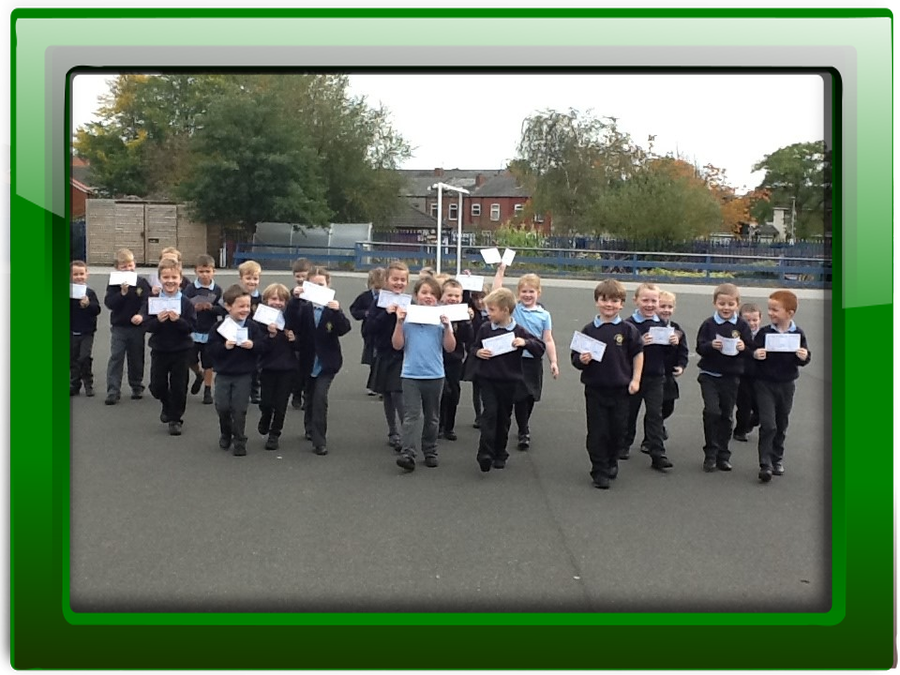 Click on the pictures below to take you to some Eco websites...